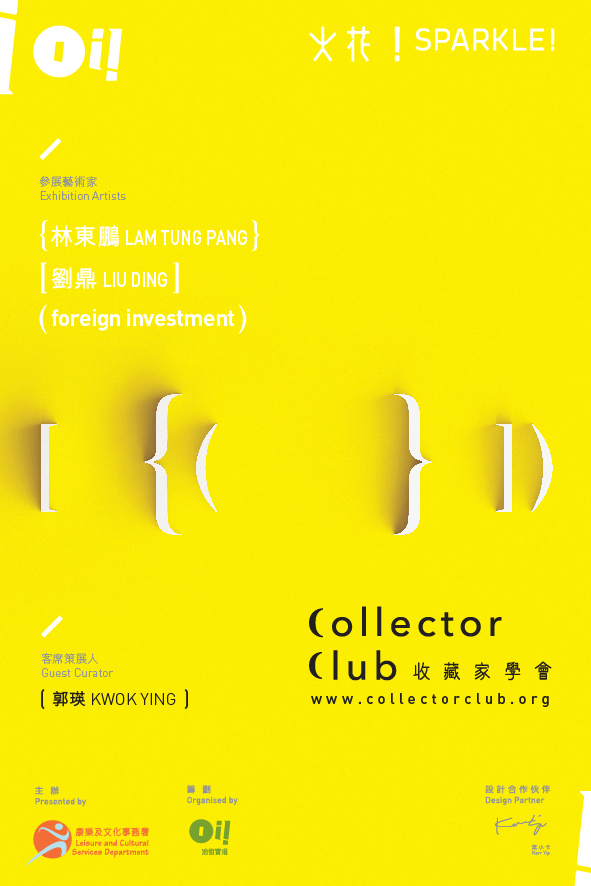 Collector Club by Kwok Ying
Collector Club is an exhibition and a series of programmes that will investigate in details about the values of art in terms of its public consumption and perception.
Unlike other consumer goods, establishing the value of a work of art is complicated and distinct because there is no transparent evaluation or pricing system to determine that value. Art lovers take pleasure in the intrinsic value, thus the aesthetic enjoyment it offers. Art also contains a mixture of monetary and non-monetary payoffs that makes works both attractive to purchase and difficult to value.
Through a series of thought-provoking discussions, the exhibition seeks to promote an understanding of the values of art and its particular market. It features works addressing the idea of art consumption, and it looks at the roles and duties of artists and the functions of the art market with the active involvement of the audience. The works presented can also be viewed as a critique or metaphorical view of the art market.
Encouraging critical thinking and initiating effective discussions around the values of art, the exhibition takes a "club membership" approach and serves as an incubator for a committed audience to further their knowledge and engagement. An impermanent "Collector Club membership scheme" will run from January until the end of Art Basel HK 2014. Toying with the format and idea of membership schemes, a series of activities and a newsletter will be initiated to facilitate discussion and encourage art writing among local art practitioners with a view to developing art critic in Hong Kong. Local artists Chris Huen Sin-kan, Kong Wing, Dakuen Leung and Wong Ka-ying will create workshops and events to response to the exhibition.
The exhibition is an important part of Collector Club. It seeks to promote an understanding of the values of art and the operation mechanism in that particular market system.
One square foot of sky is a site-specific performative work by artist group foreign investment. It poses taxing questions in regards to the monetary, symbolic and copyright value of the sky above us, and offers a new valuation for the skyline in Hong Kong. A new body of sky shares made with watercolour painting will be produced locally with Hong Kong artists. Here the artists are inviting us to enter the art market through some more familiar investment activity- property investment.
Take home and make real the priceless in your heart is an on-going project. It is Liu Ding's self-promotion strategy, which borrows the concept from the commodity market- good sale = popular. It is a series of unfinished landscape paintings custom-made in a factory in multiple quantities according to his order. The artist has autographed each individual painting, which is thus granted a potential for value appreciation. The artist's signature also carries a symbolic value, these moderately priced products promised to attract more customers. In this business, what is really being traded is something more imperceptible – the potential of the artist.
Art is a profession. How does an artist established his own professional career through his practice, and what have he gone through? For this exhibition we have invited Hong Kong based artist Lam Tung Pang to share with us his pathway and how does he pursue his artistic career, as a case study.
To help you start collecting, the Club will subsidize a piece of Lam's recent work for a registered member to acquire. A Members' Only closed auction will be carried out at the last week of the exhibition. The Club will cover the production cost of the work and successful member will only need to pay for the difference of the market price.
Kwok Ying
Curator